LA MAQUINA PODRIDA // SUBASTA // 2004
>>>> español / english / italiano >>>>>
~ ~ ~
LeLE & casares aka _los machín_ aka _latinolovers_, con el consentimiento y aprobación del net.artista propietario de la *máquina podrida* aka *la desdentada*, inicia la subasta del ordenador de Brian Mackern, artista que ha contribuido al net.art desde el lejano 1994 cuando trabajaba en lo que él llamaba *ambientes en red*.
Es un artista, en este sentido, fundacional, aunque como es ajeno a los ámbitos europeo y norteamericano, dada su nacionalidad uruguaya, no posee el lustre de los siete magníficos, a pesar de anticiparse en el uso de la herramienta Flash y los recursos sonoros.
Fundador de los directorios online <artef@ctos virtuales> [ http://www.internet.com.uy/vibri/ ] y netart_latino database [ http://netart.org.uy/latino/index.html ]. Es, además, desarrollador de interfaces sonoras offline/online.
Su currículum vitae puede ser consultado en http://netart.org.uy/brian.html, y sus sitios de referencia son http://netart.org.uy , http://no-content.net y http://34s56w.org.
El precio de salida de este ordenador/taller_de_artista/obra es de 4.000 € [euros].
Debemos insistir en que estamos ofreciendo el ordenador completo y lleno de todos los datos contenidos hasta el momento en que se ha decidido su venta, día 08.05.2004:
No un CD con la imagen de una sección del disco, caso de Joshua Davis.
Ni el ordenador que sólo aloja un virus que arranca, ejecuta el virus, lo contrataca, se muere y reinicia, caso del grupo artístico europeo 0100101110101101.ORG.
Ni tampoco un bello portátil Apple que recoge una abstracción geométrica facilitada por la cibernética expuesto como si de un cuadro se tratara, caso de John F. Simon Jr.
Ni mucho menos un ordenador personalizado exteriormente como una intervención a la moda.
Como tampoco un viejo ordenador al que se le deja rastros de una pieza para que puedas disponer de algo del trabajo de su propietario.
No.
Ofrecemos el instrumento de trabajo (el taller, en términos clásicos) que ha acompañado a Brian Mackern durante los últimos años, tanto en sus trabajos personales, como en sus encargos para otros artistas, o en sus net jamm con los miembros del grupo OFFLINE [http://offline.area3.net], [entre otros], aparte de sus trabajos como VideoJockey [VJ], conferencias y workshops.
En fin, su herramienta.
Completo de información e historia, además de todas las penalidades sufridas por la máquina de un artista que pertenece a un país no desarrollado, donde el low-tech no es un recurso estético sino la única salida para continuar trabajando.
Una herramienta que puede ser adquirida para ser vampirizada y continuar su obra o bien exponerla para la posteridad cuando el desarrollo de hardware y software nos impida ver muchas de las piezas hospedadas en su ordenador, algo que ya sucede.
~ ~ ~
La subasta de su ordenador, un viejo portátil PC de 1999, seguirá el siguiente procedimiento:
1.- En el día 08.05.2004 el ordenador ha sido congelado para
preservar toda la información que contiene ya que su estado es
sumamente delicado y corre riesgo de perder una valiosa información
que no se limita a la propia obra del propietario, quien en su faceta
de arqueólogo digital posee información acumulada de la historia del
net.art desde sus inicios.
2.- Existe documentación fotográfica que demuestra la *congelación*
del ordenador en el día indicado y que toda su información ha sido
traspasada a un kit de restauración formado por cuatro DVDs copia
espejo del disco duro. La documentación fotográfica sigue las pautas
clásicas de la petición de un rescate por secuestro, se fotografía al
congelado junto al diario del día de su congelación.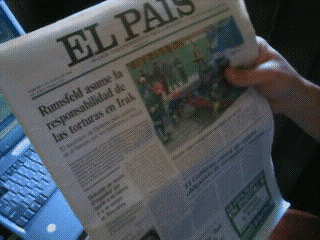 >> congelación >>
3.- Esta copia espejo del disco duro en soporte DVD garantiza al
comprador la presentación del ordenador en todo tipo de exposiciones
para, si alguien *deforma* el disco duro, poderlo restaurar desde la
copia espejo que proveemos en esta serie de DVDs autoejecutable.
4.- La subasta se inicia con la exhibición del ordenador durante el
_pescara electronic artists meeting 2004_ [ PEAM2004 ]
[ http://www.artificialia.com/peam2004/ ] entre el 19.05.2004 y el
23.05.2004, en cuya inauguración, día 19.05.2004, quedará abierta en
EUROBID [ http://www.eurobid.com/console.cfm?item=AT0020520002&cat=AT002 ].
5.- Acompaña al ordenador y a los DVDs de restauración, la
mochila para su transporte y el monstruo verde sin el cual el artista
no podía realizar su trabajo. Ambos elementos, mochila y monstruo
verde, forman parte inseparable de este taller del artista del que
ahora se desprende.
6.- El ordenador se vende sellado y junto con la copia espejo del
disco duro, también en caja sellada, se facturará al domicilio del
comprador que pasa a ser su legítimo propietario pudiendo mostrarlo
en futuras exposiciones de arqueología del net.art o curiosear por su
disco duro para poder descubrir la fuente de las obras de Brian
Mackern, a la vez que dispone de un excelente repositorio de obras
antiguas del net.art.
7.- Como información complementaria para esta subasta el artista,
Brian Mackern, cuelga a disposición de los internautas un interactivo
que permitirá acceder a sus instrucciones de uso al posible comprador
y conocer las anécdotas que han rodeado la vida de *la desdentada*
de la que se ve obligado a desprenderse por su incapacidad
para continuar siendo una herramienta fiable de trabajo.

~ ~ ~
START TOUR! // NFO // CAUTION! // PLEASE READ >>
>>> español / english / italiano >>>>>
lele & casares aka _los machín_ aka _latinolovers_, previo consenso e
approvazione del net.artista propietario della *máquina
podrida* (spagnolo: macchina in avanzato stato di putrefazione),
danno inizio all'asta del computer portatile di brian mackern, artista
che ha contribuito alla net.art sin dal lontano 1994 quando lavorava
in ció che egli denominava *ambienti in rete*.
é un artista, in questo senso, fondatore, sebbene, essendo alieno agli
ambiti europeo e nordamericano, data la sua nazionalitá uruguayana,
non possiede il lustro dei *magnífici sette*, nonostante l'avere precorso
l'uso dello strumento flash e delle risorse sonore.
fondatore dei portali online <artef@ctos virtuales> [ http://www.internet.com.uy/vibri/ ]
e netart_latino database [ http://netart.org.uy/latino/index.html ] , é inoltre sviluppatore di
interfacce sonore offline/online.
il suo currículum vitae puó essere consultato in
<http://netart.org.uy/brian.html>, ed i suoi siti di riferimento sono
<http://netart.org.uy/>, <http://no-content.net/> e
<http://34s56w.org/>
il prezzo di lancio di questo computer/atelier_di_artista/opera é di
4.000 euro.
dobbiamo insistere che ció che stiamo offrendo é il laptop completo e
pieno di tutti i dati contenuti fino al momento nel quale si decise la
sua vendita, giorno 08.05.2004:
non un cidí con l'immagine di una parte dell'hard disk, caso di joshua davis.
neanche il cumputer che semplicemente alloggia un virus e che si
accende, esegue il virus, lo contrattacca, muore durante la lotta e si
riaccende, caso del gruppo artistico europeo 0100101110101101.org.
ma neanche per sogno un bel portatile apple che raccoglie una
astrazione geometrica, fornita dalla cibernetica, esposto come se si
trattasse di un quadro, caso di john f. simon jr.
ne, giammai, un computer personalizzato esteriormente come intervento
alla moda.
e men che meno un vecchio computer in cui si lasciano tracce di un'opera
per disporre di un frammento del lavoro del suo propietario.
no,
offriamo lo strumento di lavoro (l'atelier in termini classici) che ha
accompagnato brian mackern durante gli ultimi anni, tanto nei suoi
lavori personali, quanto nei suoi incarichi per altri artisti, oltre
che nelle sue net jamm con i membri del gruppo OFFLINE [http://offline.area3.net],
[tra gli altri ], oltre ai suoi lavori come _VJ_, conferenze e workshop,insomma il
suo strumento.
completo di tutta l'informazione e della sua storia, oltre a tutte le
lesioni subite da una macchina di un'artista che appartiene a un paese
sottosviluppato, dove il low-tech non é una risorsa estetica ma
l'unica possibilitá di continuare a lavorare.
uno strumento che puó essere acquistato per essere vampirizzato e
continuare le sue opere ma anche esporlo alla posteritá quando
l'evoluzione dell'hardware e del software ci impedisca di vedere molte
delle opere ospitate in questo computer, cosa che sta giá succedendo.
l'asta della *máquina podrida*, un vecchio portatile piccí del 1999,
seguirá il seguente procedimento:
1.- nel giorno 08.05.2004 il computer é stato congelato per preservare
l'esatta immagine di tutti i suoi contenuti vista la sua situazione
specialmente
delicata ed il rischio di perdere un preziosa informazione che
non si limita alla sola opera del propietario, che nella sua
sfaccettatura di archeologo digitale possiede informazione accumulata
sulla storia del net.art dai suoi albori.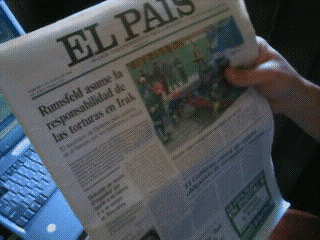 >> congelamento >>
2.- esiste una documentazione fotografica che testimonia il
*congelamento* del computer nel giorno indicato, grazie a ció tutta
l'informazione é stata trasferita a un kit di ripristino formato da 4
divvuddí contenenti l'imagine del disco fisso. la documentazione
fotografica segue il dogma della richiesta di riscatto di un
secuestro, si fotografa il congelamento insieme al giornale del giorno
dell'operazione.
3.- questo backup del disco fisso in supporto dvd garantisce al
compratore la possibilitá di presentare il computer in qualsiasi tipo
di esposizione perché fornisce un mezzo di ripristino automatico
della sequenza originale
dei bit del disco fisso, nel caso in cui qualche curioso *deformi*
l'assetto attuale della informazione.
4.- l'asta verrá lanciata con l'esposizione al pubblico del computer
nell'ambito del _pescara electronic artists meeting 2004_
<http://www.artificialia.com/peam2004/> tra il 19.05.2004 e il 23.05.2004,
e rimarrá aperta nell'arco di tempo di un mese nel sito EUROBID
<http://www.eurobid.com/console.cfm?item=AT0020520002&cat=AT002>
nella categoría *antichità*.
5.- si accompagna il computer di brian mackern ai divvuddí di
ripristino, lo zaino originale per il trasporto e il mostro verde
senza il quale l'artista non avrebbe potuto realizzare le sue proposte
artistiche. entrambi gli elementi, zaino e mostro verde, sono parte
inseparabile di questo atelier dal quale l'artista é disposto a
separarsi.

6.- il computer si vende sigillato insieme all'immagine in divvuddí del disco
fisso, in una confezione altrettanto sigillata, si invierá al domicilio del
compratore che passa ad essere il suo legittimo propietario con la
facoltá di esibirlo in future esposizioni di archeologia del net.art o
curiosare per il suo hard disk per poter scoprire il codice sorgente
delle opere di brian mackern, disponendo allo stesso tempo di un
eccellente rassegna di opere antiche di net.art.
7.- come informazione supplementare per questa asta, l'artista
brian mackern, mette a disposizione degli internauti interessati un
reportage documentale <http://netart.org.uy/subasta> che permetterá
di accedere alle istruzioni d'uso
e conoscere gli aneddoti che hanno caratterizzato la vita della *máquina
podrida* dalla quale l'artista si vede obbligato a separarsi per la sua
incapacitá di continuare ad essere uno strumento di lavoro affidabile.
~ ~ ~
START TOUR! // NFO // CAUTION! // PLEASE READ >>
>>> español / english / italiano>>>>>
LeLE & casares aka _los machín_ aka _latinolovers_, with the consent of
brian mackern, are proud to announce the auction of his laptop.
brian mackern, the netartist owner of the *rotten machine* aka *the
toothless *the toothless*, has been contributing to the development of netart since 1994
when he worked in what he called at those days, *net ambientations*.
in this sense, this uruguayan artist is a pioneer, though given his
nationality, and in spite that he was one of the first in anticipating the
use of tools like flash, soundtoys and the investigation on net-interactive
sound resources, he was rather outside european and american scope.
founder of the online portal <artef@ctos virtuales>
<http://www.internet.com.uy/vibri/> and the netart_latino database
<http://netart.org.uy/latino/index.html>, he is also a well known
developer of sound interfaces, soundtoys and *image-sound user-reactive*
objects [offline&&online].
his CV can be viewed at:
<http://netart.org.uy/brian.html>, and his reference sites are:
<http://netart.org.uy/>, <http://no-content.net/> & <http://34s56w.org/>
the start bid for this laptop/atelier/artwork is 4000€ [euros].
we must insist that we are offering the complete laptop, with
all the data contained in it at the moment in which its auction
was decided, 08/may/2004:
not a cd with the image of a section of a hard disk, the case of joshua
davis.
nor the computer that only has a virus that starts, executes itself,
autocounterattack, dies and restart, like the case of the artistic
european group 0100101110101101.org.
nor a nice apple laptop which shows cybernetic geometric abstractions and
exhibited as if it were a painting, the case of john f. simon jr.
nor an old computer in which the artist leave traces of his work so that
you can view some of the work of his owner
even less, an externally personalized computer, like a trendy intervention.
no.
we are offering the tool (the workshop, playground and sandbox), that has
accompanied brian mackern durings these last years.
tool that he used for composing his own personal artworks, or doing things
for other artists, or used for his netjamms with other integrants of the
OFFLINE group [http://offline.area3.net] and collaborative works, beside
of his works as VJ, his lectures/conferences and workshops.
complete with information and history, with all the traces and sufferings,
by an artist who comes from an underdeveloped country, where low tech it´s
not an aesthetic election 'per se', but the only way to continue working.
a tool that can be acquired for being vampirized or to continue his work, or
exhibit it for posterity when the development of hardware and software will
make us
impossible to view much of the pieces, something that already is happening.
the auction of his laptop, an old PC from 1999, will follow these
conditions:

1.-the laptop is in a critic state and there is a risk of loosing valuable
information,
which is not limited to brian mackern´s own works but a lot more, as brian,
in his *digital-archaelogical* side, has been collecting and recreating lots
of info from netart´s beginning. On 08.05.2004 the laptop was "freezed",
thus preserving all the data contained in it.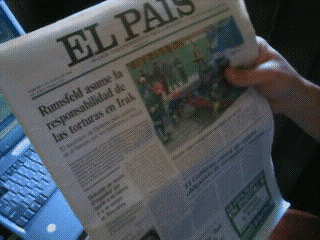 >> freezing >>

2.-there is video-photographic documentation, proving the *freezing* of the
laptop on the stated day, and that all the data has been copied to a
restauration kit, (3 DVDs).
the photographic documentation follows the classic guidelines for the
request of a rescue by kidnapping: photos of the freezing with the newspaper
of the day this freezing was made.

3.- this DVD mirror of the HD garantees the buyer the presentation
of the laptop in all types of exhibitions. If some (or all) of the HD data
is lost, it can be restored from the copies we provide.

4.- the auction will start with the exhibition of the laptop during PEAM2004
_pescara electronic artists meeting 2004_
<http://www.artificialia.com/peam2004/>
between 19.may.2004 and 23.may.2004 , and will stay open for a month in
EUROBID < http://www.eurobid.com/console.cfm?item=AT0020520002&cat=AT002> ,
in the *ANTIQUES* category.

5.- the carrying bag and *green monster* [which without it, the artist
couldn´t go on with his work] also accompanies the laptop and the
restauration DVDs.

6.- the laptop will be sold sealed, with DVD mirror-copies of its hard disk,
also in sealed case, to the best bidder who, once he pays, will be the
legitimate owner.
this will let him to show/exhibit the machine in future *netart
archaelogy exhibitions* or explore its hard drive and discover the sources
of mackern´s artworks, beside having the possibility to access an excellent
repository of old netart/digital works.

7.- as complimentary information for this auction, brian mackern has
published a site with the instructions of use for his laptop
< http://netart.org.uy/auction >, with detailed stories and descriptions
about the *rotten machine* which he is forced to sell, so as he can buy&pay
for another new and more trusty tool which will let him continue his work.
~ ~ ~
START TOUR! // NFO // CAUTION! // PLEASE READ >>